Welcome to our first newsletter! We hope you enjoy being kept up to date about upcoming events and programs!
Shannon Wooten is an Assistant Vice President, Community Development Officer for Arvest Bank in Greater Kansas City. She is responsible for promoting Arvest's commitment to the community while building long-lasting relationships. Her areas of focus are Financial Awareness, Housing, Education, Health and Wellness. Learn more about Shannon by clicking on the link below.
UFSC-GKC MEMBER SINCE 2016
CHECK OUT UPCOMING EVENTS, VOLUNTEER & MENTORSHIP OPPORTUNITIES AND MORE
Join the June 14th Empowerment Session from 11am to 1pm CST.  The next Empowerment Session wants you to "Step Up To Lead".  Register now and stay connected.
Have you blocked off your calendar for UFSC-GKC's Golf Tournament of the Year Friday, July 15th? Save the date for the fundraiser of the year and give back to the community!
We are accepting applications for the 2022 Bronston Scholarship!  The deadline is September 30th, so be sure to encourage High School Seniors and College Students to apply today!
Learn what it means to become a Mentor or Mentee today.  There is a small window for sign up beginning June 2022.
We have ramped up Volunteerism starting with Junior Achievement of Greater Kansas City!  Multiple volunteer days available.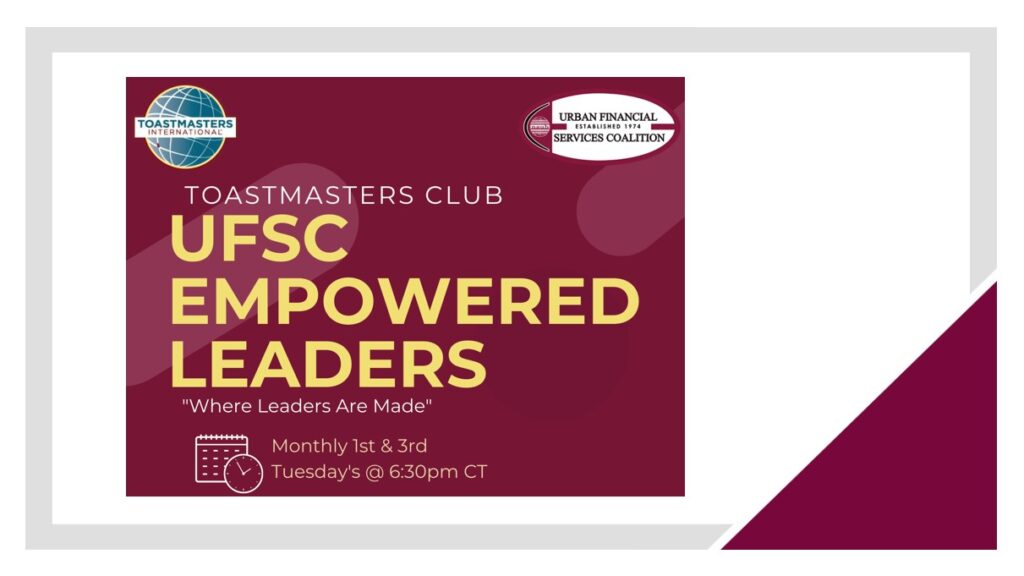 Enhance speaking and leadership skills with our UFSC Empowered Leaders Toastmasters club.  Meetings are the 1st and 3rd Tuesdays of the Month!
Save the Date for The Annual Scholarship Awards Reception
Held Monday, November 14th, at the
Federal Reserve Bank of Kansas City
1 Memorial Drive, Kanas City, MO 64198